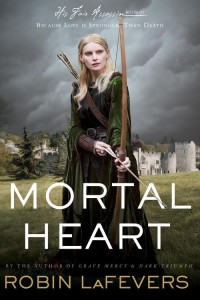 Mortal Heart by Robin LaFevers
Amazon
|
Goodreads
Published by HMH Books for Young Readers November 4, 2014
444 Pages
#3 (Last) in His Fair Assassin Trilogy
Source: Library
B
ookologist Analysis: The Mortal Heart was simply an avalanche of all things a book needs. It had the emotional tirade that made you cling to Annith. There was a reason to finally find peace in a world of assassin nuns. The answers to the questions I had suspected were answered. The maze we were lead down was something that I found love in. It was simply all that I had hoped for and more.
Annith has watched her gifted sisters at the convent come and go, carrying out their dark dealings in the name of St. Mortain, patiently awaiting her own turn to serve Death. But her worst fears are realized when she discovers she is being groomed by the abbess as a Seeress, to be forever sequestered in the rock and stone womb of the convent. Feeling sorely betrayed, Annith decides to strike out on her own.
She has spent her whole life training to be an assassin. Just because the convent has changed its mind doesn't mean she has...
A labyrinth that is what Mortal Hart truly was. There was a string laid down by Annith that we followed to find her unique story. Annith, Sybella, and Ismae are all their own individual heroines— ones driven by a duty to Mortain and to find their own paths in life. Annith was a conflicted soul that was pushed like a baby bird into the air and her story was one of learning how to fly. She managed to find herself in the world that she had never seen outside of the covenant.
Annith is my type of girl— one who would be my best friend. She has a respect for authority, but still knows that she will leave the covenant knowing what is best for her. She meets men who have done terrible atrocities, yet still she sees there humanity and loves them for their choice to find redemption. Annith is not simply a girl, but a role model that I wish I could've lived with.
For me the book leapt out of from the pages and danced into a world. Mortal Heart explained the history of Britanny into something that made sense with the covenant's presence. Mortain too in this book was more fully explained and we got to see his humanity. The nuns as well didn't see that far this time. They were people and had made mistakes, but had also raised plenty of strong-willed girls. The hellequins (followers/hunters of Moratin), nuns, and Mortain all made a full circle in this book.
This book has made come to where I wanted to see Robin LaFever leave us. She left us with an open door she may decide to write more books with. She left us with three strong, feminist three heroines who all having different stories and trials are all inexplicably linked. The eloquence first starting with Ismae has become the dark Sybella to the willful Annith has come into a smooth, satisfying circle of love, death, and triumph.