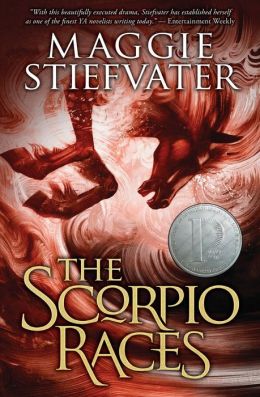 The Scorpio Races by Maggie Stiefvater
Available Now
Stand Alone
Bookologists' Analysis: The horses of water are starting the season of the highly dangerous and somewhat intoxicating book The Scorpio Races.
A spellbinding novel from #1 New York Times bestselling author Maggie
Stiefvater.
Some race to win. Others race to survive.
It happens at the start of every November: the Scorpio Races. Riders attempt to keep hold of their water horses long enough to make it to the finish line.
Some riders live.
Others die.
At age nineteen, Sean Kendrick is the returning champion. He is a young man of few words, and if he has any fears, he keeps them buried deep, where no one else can see them.
Puck Connolly is different. She never meant to ride in the Scorpio Races. But fate hasn't given her much of a choice. So she enters the competition - the first girl ever to do so. She is in no way prepared for what is going to happen.
As she did in her bestselling Shiver trilogy, author Maggie Stiefvater takes us to the breaking point, where both love and life meet their greatest obstacles, and only the strong of heart can survive. The Scorpio Races is an unforgettable reading experience.
The Scorpio Races took a while for me to get through, the book was structured delightfully, but you couldn't throw off the feeling that something was missing. The action was all but absent except in the end scene featuring the actual Scorpio Races. This book is all about relationships that each character has, a reputation everybody knows, and the culture of the isolated island of Thisby.
Puck and Sean switch first person narration (which I prefer over third person because you then really know what is going on with them) in the book which lets you see the push and the pull between them. Puck is the first woman in the Scorpio Races, being a race for men on blood thirsty horses. She breaks these unspoken rules to ride as a woman on regular horse (not pony). She has a wild side that shines through her. Sean is a quiet four year reigning champion of the Scorpio Races who is the trainer/groomer at the local stable called Malvern Yards. They meet each other as enemies, which we all know creates perfect chemistry. They have a bittersweet slow relationship that build from acquaintances to partners.
This book would be a wonderful book for a book club because this book is all about relationships and reputations. On the remote island of Thisby you know everybody's reputation and who they are, you know what they are, and who knows who. Here are some questions:
How does Sean Kendrick's reputation precede him when he meets Puck Connolly for the first time?
Gabe is planning to leave the island, how does that affect how Finn and Puck view him?
How did Puck Connolly's parents death affect her?
Sean Kendrick is a relatively quiet person, how does Puck lead him out of his shell?
This story is about never giving up. To quote the old saying, "If there is a will there is a way." That if you keep on going something great will happen. For example, Puck wants to win the Scorpio Races to save her home with the prize earnings, despite being the first woman to compete, she does. Second, Gabe wants to leave the island that is haunting his nightmares, having his sister compete in a highly dangerous event doesn't stunt that passion. The book The Raven Boys by Maggie Stiefvater has similar lines.
The writing of this book tells a wonderful detailed story that is the hallmark of Maggie. Another bad hallmark though is slow books the plots are too intricate or too hard to follow. The language was beautiful and the action was minimal. This is a great slow book.
The book will remind of you of slow waves that pound the island of Thisby lulling, but at any moment waiting to crash on the beach to signify the blood wavering scream of the capall usice. This is one of Maggie Stiefvater's earlier reads.